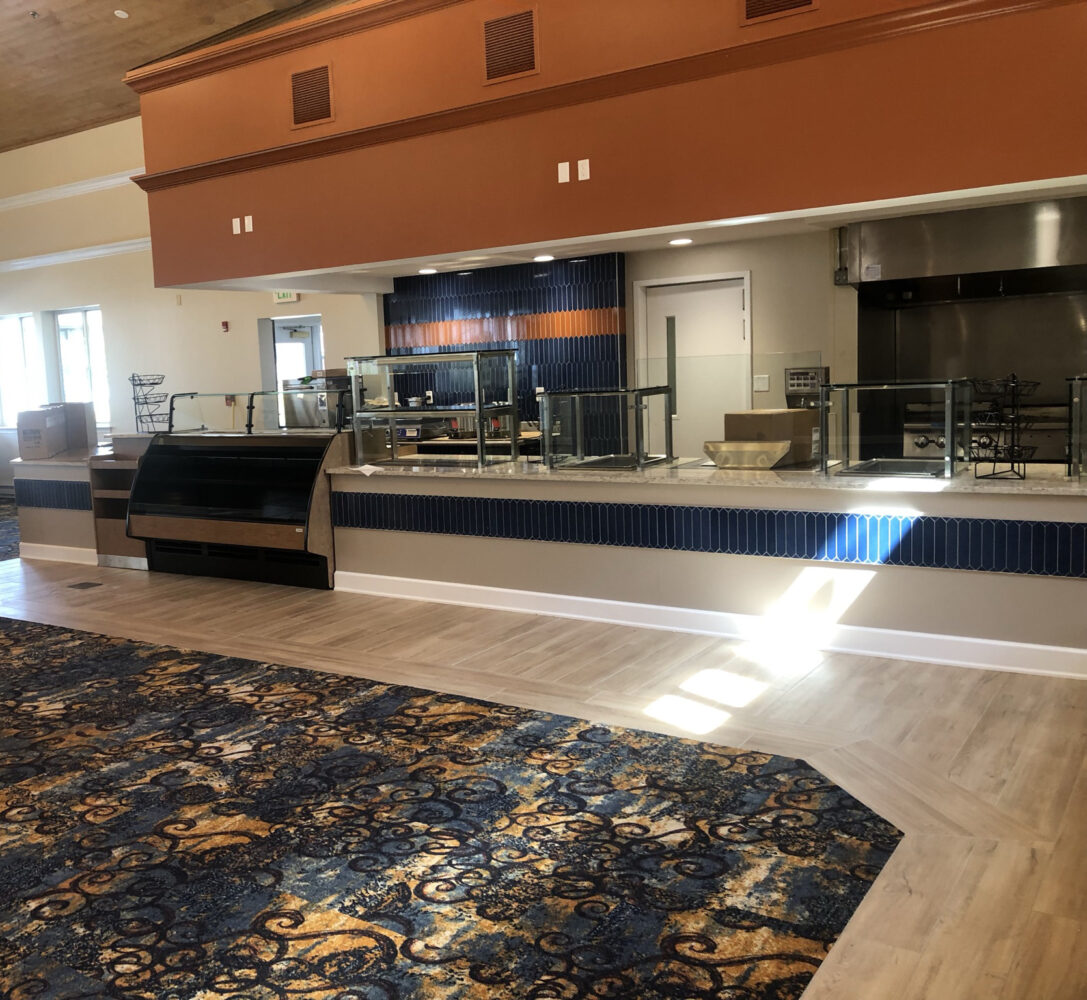 15 Feb

5 Ways To Improve Your Senior Dining Facility Design

Commercial kitchens face a litany of challenges in their goal to efficiently feed large groups. But there are even more complex considerations that come with catering to folks in a senior living facility. Particularly in tailoring facilities and equipment to service elderly individuals with disabilities and mobility challenges, many who require assistance.

The dining area is a critical component of the senior living experience. It is often the first impression that potential residents and their families receive when they walk into their new home. And this essential communal environment sets their expectations for the quality of their surroundings and experiences in a new day-to-day routine. It is important to provide an atmosphere in which residents can feel at home, comfortable, and valued, but aesthetics alone will not be enough. To ensure that the environment facilitates keeping residents mentally and physically sharp, you should consider all aspects of culinary space design, including flow, signage, functionality and safety.

Below are our five best tips to improve the design and functionality of your senior dining facility:
1. Manageable Layouts with Modern Decor
Just because your residents may be older does not mean that their home should be dated. Entering a space with a sleek and modern look will help your residents feel in touch and connected to the contemporary world, as well as valued residents of a dedicated and thriving facility.
The square footage needed to accommodate guests in an assisted living facility also differs from traditional restaurant setups. Some guests may have walkers or wheelchairs, and thus you will need to create an environment that is free of barriers and has ample accessibility. A streamlined, sensible layout can also prevent confusion about where specific stations are located, ensure a natural and easy flow through the dining experience, and help avoid unforeseen injuries with minimal obstacles and conflicts.
Seniors are unique in that they may face extra hurdles or challenges to successfully and safely get through their daily routine. However, enjoying regular meals with friends and family does not have to be one of them.
2. Offer Variety
Senior living facilities should strive to create a variety of dining experiences for their guests. Buffet and cafeteria-style lines were prevalent in the past, but there has been an increased focus on creating a more authentic and tailored experience. Offering flexible, adaptable stations with a wide variety of offerings for everyone (particularly those with dietary restrictions) is a rapidly growing movement. Others are developing fast-casual restaurant-like experiences, where residents can order verbally with a staff member or utilize touch-screen ordering, whichever is more comfortable for the
guests. These stations can also double as a sit-down dining option, which is not only a way to help residents feel some normalcy, but it is also conducive for guests who may have limited mobility.
The dining room offers the most often utilized environment for residents to eat and socialize with others. The stimulating and engaging atmosphere is one of many benefits derived from providing a functional and stylish space. Many residents may not possess the physical ability or social support to dine outside of the facility regularly, but they certainly still deserve a high-quality dining and social experience.
Using this forethought when designing a dining space makes it easier for everyone to access delicious and enriching mealtimes.
3. Open/Family-Style Kitchens
Enjoying a dining experience encompasses so much more than just eating food placed in front of you. The stimulation and joy derived from watching a chef prepare your food with dedication and skill cannot be understated. Hence, the growing popularity of open kitchens in the retirement dining arena. This model offers the potential for a truly intimate and interactive experience.
The open-style kitchen also behoves involving residents in the meal preparation, whether through open conversation while their meal is prepared or through the addition of resident cooking classes or special cooking events that garner independence, mental stimulation and excellent social interaction.
4. Incorporate Natural Light
Natural sunlight is proven to help reduce stress levels, as well as increase productivity and function. Natural light not only offers a better aesthetic and more opportunities for residents to enjoy views of the outdoors, but it is also an essential element of mental and physical health. Large windows, skylights, sliding doors and outdoor dining spaces help to increase sun exposure in a population that may not have much other opportunity for it. This daytime sun exposure is a crucial element to resident health in the form of increased vitamin D levels and regulating the sleepwake cycle, which in turn significantly improves cognitive function and mood.
5. Include Natural Elements
Whether it be with "living green walls" or large nature-based canvas prints, the shift toward more modern designs demands an accompanying evolution in color palette.
Neutral shades work well for hallways and places of high traffic, in which visibility is essential, while colors that evoke nature create a calming atmosphere. In addition, furniture with contrasting colors helps decrease injuries from tripping and positionchange hazards. When decor consists primarily of soothing earth tones and images depicting natural elements, it evokes feelings of serenity. This natural palette is also a wonderful way to incorporate the outdoors into the dining space, allowing colors to flow seamlessly from outside to inside through ample windows.
More retirement facilities are shifting from high-end, formal wall treatments to a more comfortable and serene atmosphere.
Dining is an essential and ever-evolving element in any senior living facility. It is the heart of an environment that has the potential to nourish the daily health and happiness of residents, visitors, and staff alike. Ensuring you have the right tools for success in creating this multifaceted space requires complex planning with ample experience. Our team at Atlantic Culinary Environments has been working diligently to provide culinary space design solutions that are not only aesthetically pleasing but ensure that residents receive the utmost nutritional, emotional and social experiences.
If you are interested in revamping your culinary space for your community's unique and evolving needs, do not hesitate to contact us today at 570-271-1404. Our experts are ready to partner with you.