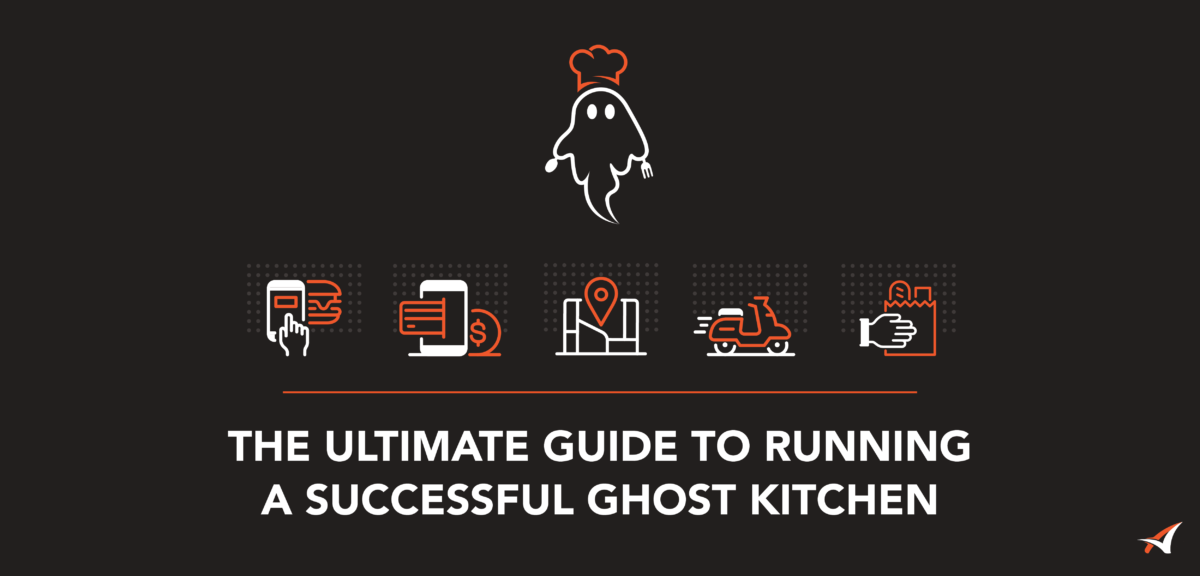 18 Apr

The Ultimate Guide to Implementing a Successful Ghost Kitchen

At the onset of the pandemic, many small businesses and restaurants closed their doors due to stringent safety protocols and contact restrictions. It was a dark time characterized by lost wages and plummeting profits for many. However, it also presented a unique opportunity for one industry niche to grow beyond measure – contactless service. Dine-in eating was restricted, and citizens did not want to risk long exposure in grocery stores to shop for ingredients. Thus, people opted for quick grab-and-go options and ready-made meals brought straight to their doorstep. This model enabled many businesses to operate at partial capacity, decreasing expenditures to earn a slender profit margin with delivery and pickup offerings. Services such as DoorDash and UberEats rose to unforeseen popularity. Likewise, the economic climate was fertile soil for a new generation of small businesses to thrive. Enter ghost kitchens!

If you are in the food service industry, you may be familiar with this growing trend. While the name may conjure a mental image of deserted cookery, it is derived from the fact that the food served is coming from an unknown location, almost like an anonymous "ghost writer." These commercial kitchens do not cater to walk-in or dine-in customers. As many do not possess brick-and-mortar customer locations, they rely on digital marketing to vend their menu options. Orders are filled out online through social media business pages or mobile applications, and food is sent through a courier. They are most prevalent in areas where the demand for food delivery services is high, such as major cities and residential areas near business districts.

In this article, we will explore the distinct types of ghost kitchens and how they may impact your business.
Types of Ghost Kitchens
Ghost kitchens differ in their intent and form. The three most common iterations are kitchen pods, pop-up or incubator, and commissary or shared. Let's delve into their distinctions.
1. Existing Back-of-House Kitchens
Many businesses adapted to dining restrictions by making accommodations to the facility they already occupied. By adding different features like glass shields, pick-up cubbies, counters, and food lockers, customers were able to enter their usual favorite dining locales and pick up a favorite meal with ease and without exposure risk. Businesses minimized costs by utilizing their existing space in a new and creative way.
2. Pop-up Kitchens
Pop-up or incubator kitchens are an excellent functional fix if you have a physical location with dine-in customers while simultaneously managing online delivery orders.  If your physical location is usually overwhelmed with orders and struggling to provide prompt delivery and takeout services without sacrificing in-house dining quality and delivery time, this is a strong indicator that a pop-up or incubator kitchen may help you create a balance between your two unique revenue streams. These ghost kitchens take the strain off of your customer-facing staff by providing a separate dedicated team to fulfill delivery requests in a bespoke location. The additional pop-up space can range from an entirely separate kitchen space, perhaps leased from a closed business, to a food truck outside of your main kitchen. These parallel kitchens can share some tasks when it makes sense, and ensure that walk-in customers are satisfied while deliveries are streamlined to maintain your prompt and mishap-free reputation.
3. Commissary Kitchens
Off the bat, what sets commissary or shared kitchens apart from other types of ghost kitchens is that they are not necessarily constructed and assembled by restaurateurs or food business owners. These areas allow multiple restaurant concepts to be produced from a shared location. Commissary kitchens may be set up by entrepreneurs who wish to make a profit by renting their ghost kitchens to enterprising startups. The shared model is very enticing to small business owners who cannot commit to the startup and overhead costs of installing an independent kitchen, particularly if they plan to operate on a part-time schedule. Food service business owners may also benefit from cross-exposure to neighbors' customers and business practices. If you are considering opening an online-only food business or have an interest in furthering those who do without the long restaurateur hours, this is an exciting model that offers new opportunities for collaboration and communal growth.
The Advantages of Ghost Kitchens
Ghost kitchens are gaining rapid popularity in our post-pandemic era as the demand for fast, high-quality meal delivery and pickup continues to rise.  Millennial and Gen Z customers have embraced the ease of online ordering as efficient and convenient in today's society. Many food industry leaders predict that the current "normal" will continue to prevail in the years to come. As consumers favor delivery over physically dining in, restaurateurs and small business owners are seizing the opportunity to increase their sales while cutting overhead costs. If your budget for tables, chairs, and interior design is vastly curbed, you can focus your capital on procuring ingredients, maintaining kitchen equipment, and creating excellent food with efficient delivery protocols.
Operating a ghost kitchen, either to supplement your storefront or as a standalone business, also offers the opportunity to vastly expand your customer base. Your business development will be wisely following the trajectory of consumers' current purchasing behavior. At the same time, a streamlined, minimal cost ghost kitchen offers you continued flexibility to respond to changing trends and preferences in our ever-evolving industry.
In A Nutshell
Whether you are an established brick-and-mortar restaurant or a team of cooks looking to develop a food service startup, ghost kitchens are an excellent way to increase your revenue or jumpstart your business venture. Whether considering updating your current space to fit today's delivery service culture or developing a new streamlined ghost kitchen, we are here to offer our expert assistance in ensuring your food service business is best equipped to ride this new wave of food service into the future.
For more information on culinary spaces and trends, please visit our services to see what Atlantic Culinary Environments can do for you and your business! You may also reach us at 570-271-1401.